Should employers pay sick pay?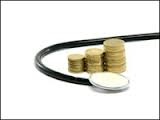 If an employee is out of work sick in the UK, employers are legally obliged to pay the employee Statutory Sick Pay (SSP) from the 4th day of absence for a maximum of 28 weeks. SSP is currently set at £87.55 per week.
However, many employers offer additional sick pay to their employees, known as company or contractual sick pay.
The recommended rate of company sick pay will very much vary from industry to industry and from company to company.
Employers must specify to their employees in the contract of employment whether or not a company sick pay policy is in place. However it can be advisable to retain the specific details of the policy within the staff handbook.
It is quite normal for employers to specify different levels of sick pay between employees e.g. many employers will graduate sick pay amounts based on length of service, or at a minimum require that an employee pass their probation before becoming eligible. Employers just need to be mindful not to fall foul of discriminating against any employees.
If an employee is eligible for contractual sick pay and the employer does not pay it, the employee may be able to bring a claim for breach of contract and/or claim for the unlawful deduction from wages by the employer.
Amending Company Sick Pay Policies
Employers commonly ask whether or not they can amend company sick pay details.
Changing sick pay policies for any new recruits is generally an easy, straightforward process. For existing staff it could constitute a change to their terms and conditions. It is therefore advisable to get the employees written agreement. In order to encourage staff to willingly accept the new terms, it might be worthwhile to simultaneously introduce enhancements to their terms and conditions. For example, a pay rise, introduction of a new or improved pension scheme, a medical insurance scheme or increased holidays.
Bright Contracts – Employment Contracts and Handbooks.
BrightPay – Payroll & Auto Enrolment Software.